Force between Rider and Saddle or Stirrup – Balance of the Rider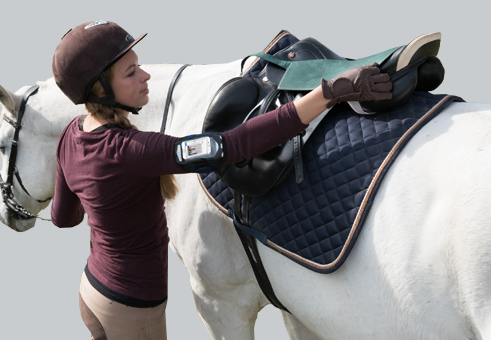 The riders' and stirrup loadpad® systems evaluate the total force between horse saddle and rider or between the feet and stirrups.
The loadpad® measures the normal total force using a thin, flexible sensor. Based on a new patent, it is the first sensor which can accurately measure the total force even if partially or heterogeneously loaded across the sensor surface. The loadpad® sensor has matchbox-sized electronics and communicates wirelessly via Bluetooth® with a mobile device. The force values are displayed in real time. The user can also receive immediate feedback regarding the applied force via an auditory, visual, or vibratory signal. The measured data can be stored on the mobile device and to the cloud and additionally transferred to a computer for a more detailed analysis. Long-term measurements allow the evaluation of different force parameters such as impulse, frequency, or loading rate.